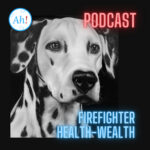 Ah!gua Tech Solutions, an EAC Business International LLC entity, presents this Podcast Series: "Firefighter Health-Wealth" launched in partnership with Captain Adam Brenner, a long-standing emergency responder of the Millburn, NJ Fire Department dedicated to cancer prevention training in the NY/NJ region and across the nation. Why Health-Wealth? Ah! Because good health is the greatest abundance of wealth any individual can achieve.
Hence, we share this podcast as a pro-bono Corporate Social Responsibility (CSR) effort in supporting Firefighter Cancer Prevention. Principal of Ah!gua Tech Solutions, Elisa Charters notes: "As Firefighters, your valor is to save lives; ours is to help saving yours via cancer prevention awareness!"
We thank Captain Brenner, and the leadership teams of both the Leary Firefighters Foundation and the National Firefighter Cancer Symposium (University of Miami Health Center), for all of their dedication to keep firefighters educated and with the funds necessary to maintain optimal health!
Please share this content to help prevent cancer across our nation. More episodes to be posted this Summer of 2022!
Notation on Podcast Episode 1 Correction: The Arizona Fire Department that has the pump operator's on SCBA is the Tuscon Fire Department.